Careers
Join SmallTalk and see the difference we make for children.
Our team impacts lives every day. We help children grow and thrive, and love every minute of it.
There may be other places you can work in San Diego, but we are the best! We have an unmatched team of successful, collaborative therapists, along with newly renovated therapy rooms, sensory gyms, learning resources and toys, and did we mention how fun our staff is? We are always looking for highly passionate and skilled people to join our SmallTalk team, and be a part of our mission to help every child in San Diego reach their greatest potential.
Our Culture
A positive and uplifting culture is our vibe at SmallTalk. We work hard to empower our staff, maintain engagement and inspire every member of the SmallTalk family. We work every day to help others, so we make it a point to have fun too! Our unique culture helps us all give our best to our clients and enjoy our work just as much as kids enjoy being here.
Our Benefits
We've been around a long time and know what it takes to keep employees happy and fulfilled. Along with our one-of-a-kind team spirit, our benefit package is comprehensive and full of unmatched perks.
We offer our full-time employees:
Competitive base salary
Monthly and weekly bonuses
Health/Dental/Vision/Life Insurance
Paid time off, sick days & paid holidays
401K plans
Continuing education funds
On-the-job training, mentoring and weekly in-services
Leadership and growth opportunities
Become a
SmallTalker
SmallTalk is home to the most caring, skilled and helpful speech and occupational therapists in San Diego. Join the SmallTalk family and help awesome children and families thrive in our community.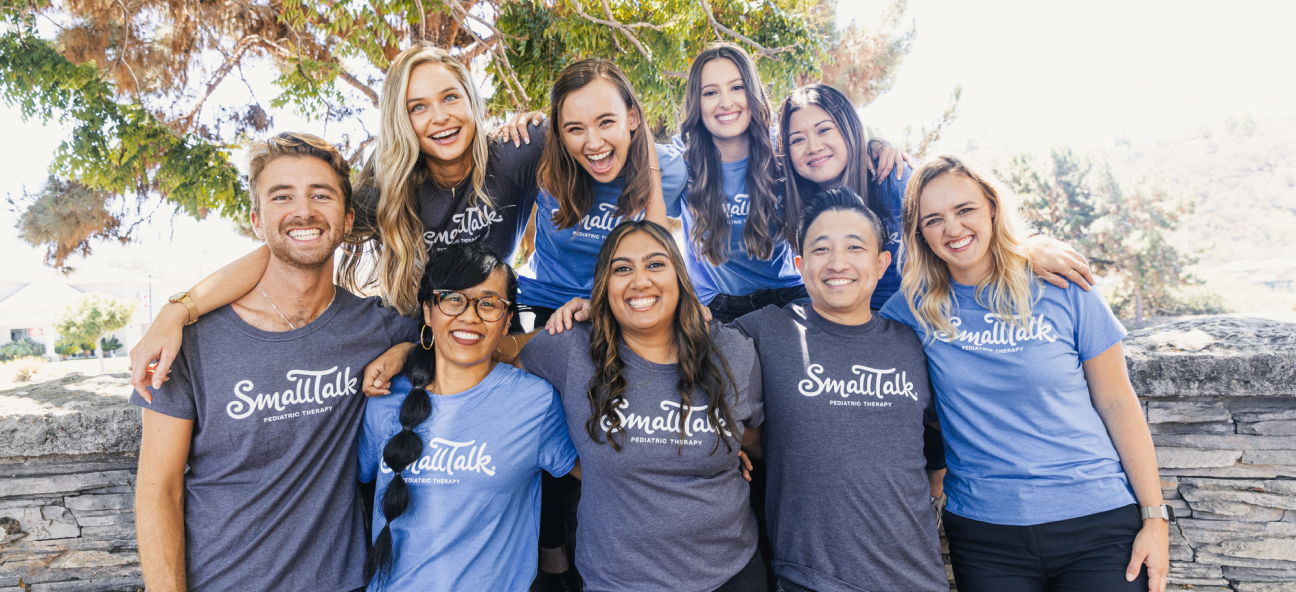 Our Team
Admin team
Behind the scenes, our admin team is the backbone of SmallTalk. They help new families prepare for their first visit, make sure appointments run smoothly, take care of the billing, process referrals and authorizations, and everything in between!
Speech team
Our speech language pathologists are fun, personable, and excellent communicators with all family members. They constantly support each other by sharing therapy techniques, strategies for tricky behaviors, therapy activities, continuing education, and more.
Occupational therapy team
Our occupational therapists share a super fun sensory gym along with quiet spots for fine motor skills and feeding therapy areas. This highly-skilled, tightly-knit team is constantly supporting and mentoring each other and new employees.
Interested in Volunteering?
You can be a part of all the fun and fulfillment at SmallTalk too! We love volunteers and have opportunities in all of our locations. Email emily@smalltalkspeech.com if you're interested!